On February 5th, 2018 Peter Anderson, co-director of the BuildLab, gave a lecture at CCA entitled "Drawing Work, Working Drawing" in which he presented the brand new BuildLab yard to officially open this summer.
---
On December 1st, 2017 Sandra Vivanco, co-director of the BuildLab, was recognized by the San Francisco AIA Community Alliance with an Educator's Award. Sandra has also been invited to serve in the National AIA Commission for Higher Education for a 2-year term starting in 2018.
---
This year, BuildLab participated in Perspectivas 2017 Exhibit held at CCA. We showcased student projects that explore and reveal the many layers of historic San Francisco. Through collaborations with outside organizations, students were able to produce work that examines how architecture and design play a key role in the ever-changing fabric of the city.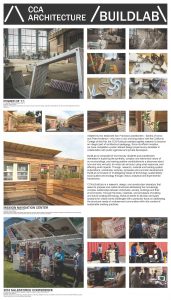 ---
We were honored to be the Design Captain for the Retail Heart District at the 2016 Marketstreet Prototyping Festival. As Design Captain, we were tasked with advising each prototyper within our district in developing and finalizing their prototypes for the festival. Through collaborations such as this, we were able to strengthen our connection to the city and intensify collaboration between several local organizations and designers.