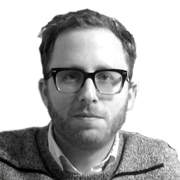 Adam Marcus, Variable Projects
CCA Asoociate Professor
Adam Marcus directs Variable Projects, a design and research studio that operates at the intersection of architecture, computation, and fabrication. He is also a partner in Futures North, a public art collaborative dedicated to exploring the aesthetics of data. His work explores ways in which new technologies can interface with longstanding architectural traditions of craft, materiality, ornament, and pattern. Prior to founding his own practice, he worked at Marble Fairbanks in New York City as project architect for a number of award-winning educational and public projects.
Recent projects include Centennial Chromagraph, a computationally-designed architectural installation which received a 2015 Small Project Award from the national chapter of AIA, and Meander, a permanent public artwork commissioned for CHS Field, a new baseball park in Saint Paul, Minnesota.
At CCA he teaches design studios and courses in computational design and digital fabrication, often collaborating with theDigital Craft Lab. From 2011 to 2013, he was the Cass Gilbert Design Fellow at the University of Minnesota School of Architecture, where he chaired the symposium "Digital Provocations: Emerging Computational Approaches to Pedagogy & Practice" and organized the school's annual Architecture As Catalyst graduate workshop program. He has also taught at Columbia University, Barnard College, and the Architectural Association's Visiting School Los Angeles. In 2013, he was selected by Design Intelligence as one of the '30 Most Admired Educators.'
Adam is a graduate of Brown University, where he studied art and architectural history, and Columbia University's Graduate School of Architecture, Planning and Preservation. He is LEED accredited, NCARB certified, and is a licensed and registered architect in the states of California and New York.

Mauricio Soto-Rubio, Studio for Lightweight Design
University of Calgary Assistant Professor
Mauricio Soto-Rubio is an assistant professor of architecture at the Faculty of Environmental Design at the University of Calgary, where he teaches comprehensive structures, building design studios, building technologies and seminars related with lightweight and membrane structures. He is also a founding partner of the Studio for Lightweight Design, a multidisciplinary firm that specializes in the design, manufacturing and installation of lightweight, membrane and deployable structures.
Soto-Rubio graduated with honors with a Professional Degree in Architecture from the Universidad de Los Andes, Venezuela in 1999. He also completed a Masters Degree in Architecture from the University of Michigan in 2003, where he was awarded the 2001 Alumni Society Award.
Before joining CCA, Soto-Rubio worked in several architecture offices and construction companies in the US, England, Germany and Switzerland. He also taught architectural design, building technologies and materials at the University of Stuttgart, Germany and at the TU in Vienna, Austria.
Mauricio Soto-Rubio is a registered architect at the Architektenkammer Baden Wurttemberg, Germany.
---